What are the next steps after your offer was rejected?
Finding an ideal home can be a daunting process. It involves talking to a wide range of realtors and having a myriad of meetings with your mortgage professional. Even worse, sometimes you may find a home that you're in love with, only to get an astounding "NO" from the seller.
Though the seller is not bound by any obligations to accept your offer, any kind of rejection is very painful. I f you find yourself in such a situation, always remember there more fish in the sea or in your case there are more houses in the market.
As heartbreaking as it may be, here's what's you need to do when your offer is rejected by the seller.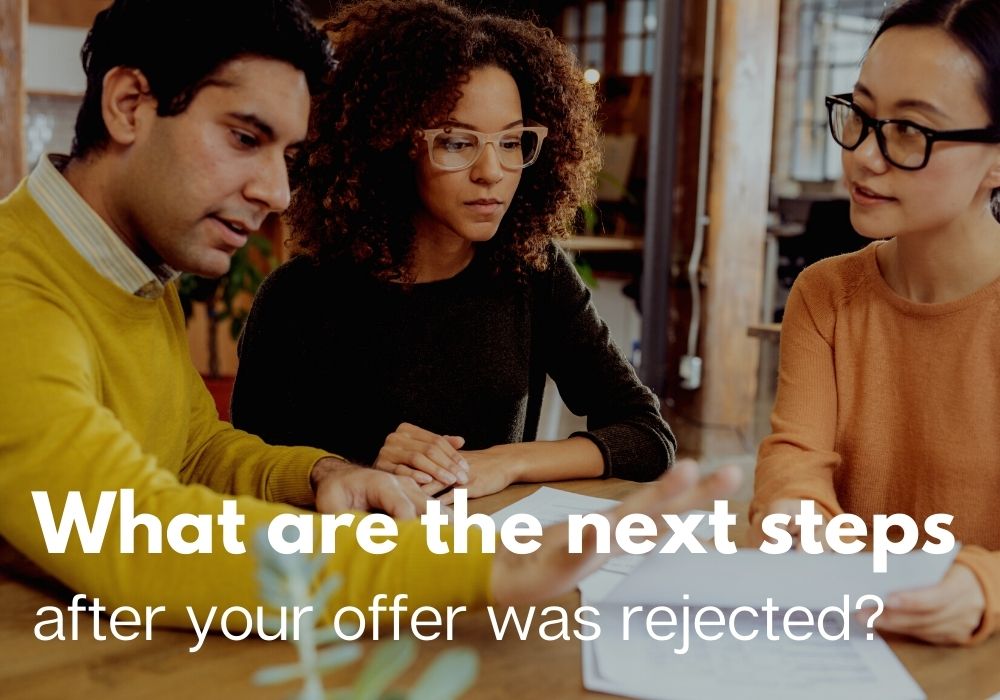 Don't Overthink It
It's a common instinct for potential homeowners to overanalyze the reasons why the seller rejected their offer. Stressing yourself with details like researching tax records and sales history is a waste of your valuable time.
Some people even go to an extent of comparing what the seller told them and what they thought they knew. By doing so, you end up being more confused, not sure anymore where to start.
It's crucial when a seller turns down your offer to speak with your realtor or real estate agent and explore further options. Just encourage yourself by simply believing the house was out of grasp for reasons beyond you.
Not that we are saying you drop all interest in the house. But if the offer you made was the best and final, then you must consider other possibilities.
Up your Efforts
Rejection of the first offer may imply you didn't match the value of your specific home needs. Then you may consider going guns blazing in the market and increasing your bid. More importantly, you should look for a wide range of home options to make more informed decisions.
For those who love negotiating, you may first make an offer with the room to increase the price. Try to bring the seller to your best price by gradually increasing your bid until you get the best price.
When quoting your best price, let the realtor understand your making your final offer.
Putting it in writing is always a great plus, because if the sellers aren't interested, they will let you know on time, giving you an opportunity to move on.
Have Reasonable Expectations
You may have all the necessary paperwork, but still get your offer rejected. In such cases, you should sober up and set realistic goals. Looking for cheaper homes other communities, helps you to get an overview of pricing strategies.
Adjust your expectations to your budget and try to get the best value for your money. If your offers keep on being rejected, have a sit down with your realtor and try to understand what you're doing wrong.
Moving on is a Bold Step
Sometimes potential homeowners develop a personal attachment to the property in question before closing the deal. Once their offer is rejected, they get emotional. It is crucial you forget about the home quickly and move on if you wish to find a new property quickly.
The time you would otherwise spend trying to figure out why the offer was rejected, would be best spent reflecting on the next step of action. Always keep in mind the features that made you fall in love with the initial property, and focus on looking for a home with similar aspects.
Also, remember that even though not all homes are created equally, some characteristics are similar across the industry. Therefore, it's vital to let your agent know exactly what you're looking for in your ideal home.
Bottom line
If you're a first-time homebuyer who has gotten his/her offer rejected, don't give up. Just remember these are common hurdles most people encounter in the home buying processes. It should serve as a wake-up call for you to be more aggressive and look for other options that suits you.
For more information on real estates, contact us.